Like many programs, WIC has been dramatically affected by the response to COVID-19. Utahns Against Hunger has been monitoring how benefits, access to services, and eligibility have changed during the pandemic response, and will be tracking those changes here:
WIC and Pandemic Unemployment Supplements: The $600 weekly supplements to unemployment insurance

do not count as income for the purpose of WIC eligibility

. Those households receiving this supplement who would otherwise be eligible for WIC participation should still apply, even though other benefits may be affected.

Clinic Access and Food Substitions: Utah WIC clinics are offering as many remote services as are possible during the crisis. Some WIC foods may be substituted in the event that the listed WIC food products are unavailable. Check this list for more information.
To apply and qualify for WIC benefits, you must reside in Utah, provide valid identification and meet the income guidelines (below). You must call a WIC office to apply.
Find a WIC clinic near you. Find WIC retailer near you.
Utah WIC Program Income Eligibility Guidelines
Effective July 1, 2019 to June 30, 2020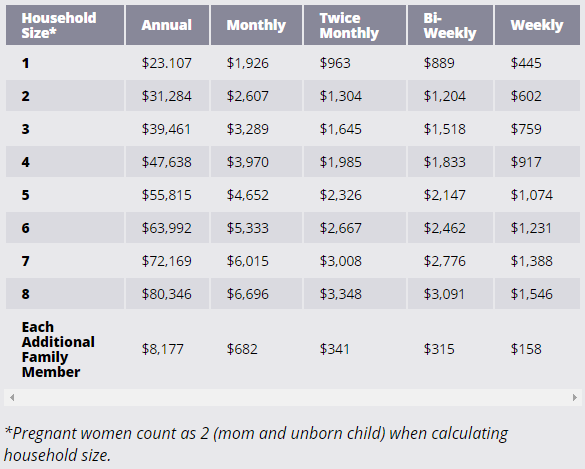 Source: Utah Department of Health
Nutrition education and counseling, nutritious foods, and help accessing health care are provided to low-income women, infants, and children through the Special Supplemental Nutrition Program, popularly known as WIC. Visit www.wic.utah.gov or call 1-877-WIC KIDS for more information.
Nutrition Information for Women and Children
Additional Resources
"Eat Right When Money's Tight"
This site helps you to feed your family when your food budget is tight with tips on how to budget effectively, how to fill your grocery bag through SNAP, which basic foods can be combined in many different ways, low cost recipes, among others.
These videos help to answer the "How do I do that?" questions we have while reading a recipe. They teach you things such as how to mince garlic, cut avocado, or to maintain a cutting board.